PLATFORM: FASHION, CONSCIOUSNESS AND RECYCLING | LN-CC
Hul le Kes
Hul le Kes is the fashion brand by designer Sjaak Hullekes, graduated from ArtEZ Fashion Design. Together with Sebastiaan Kramer he developed this sustainable label. Items are hand made in Arnhem, the Netherlands at Studio RYN, from antique linens and left over stock fabrics…
[ Continue reading ]
Clothes Fit for Modern Farmers, With a Message | The Slowdown – Culture, Nature, Future
The new Sky High Farm Workwear collection aims to spread awareness about food insecurity and regenerative farming.
[ Continue reading ]
THE AGE OF UNPEACE: Mark Leonard Explains How Connectivity Causes Conflict – and How to Cope
The political scientist Mark Leonard's new book, "The Age of Unpeace," sets out to uncover how venom had come to flow through the same arteries that once pumped potential, accord, and choice to what he saw as the cultural and economic heart of the 21st century: Europe. What he found…
[ Continue reading ]
daniel arsham collabs with stone island on safari porsche 911 off-roader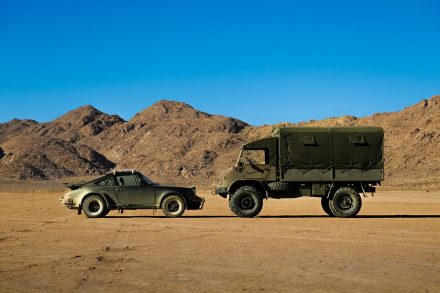 for this latest collaboration, arsham has customized a porsche 911 with rally car specs and stone island's fabrics for the interiors.
[ Continue reading ]
'The FBI Guide to Internet Slang' — Story
Pentagram's latest annual greeting challenges readers to decipher the cryptic acronyms found on social media.
[ Continue reading ]
Here's how you can help the Ukraine aid effort by buying art
Auction houses, galleries, online platforms and artists are selling works for charities helping those affected by the Russian invasion of Ukraine. Here is a selection…
[ Continue reading ]
Resources for helping Ukraine
Issue 05 — Good Sport Magazine
Good Sport 05 – Communication. Follow your nose into Good Sport 05 as we celebrate sweat, sunrise, self-reflection and shakshuka. Rising very, very early in……
[ Continue reading ]
Alec Leach
Opinion | How Covid Stole Our Time and How We Can Get It Back
You can "Air Type" on this tactile keyboard with inflated key caps – Yanko Design
Ah! Look at that keyboard! When the world is transitioning toward a smart future where a mechanical keyboard with a built-in LED screen will rule the roost, a designer dares to give us a cushioning of air bubbles to type on. When I think of laying my finger on this…
[ Continue reading ]
Last month, minimalistic Swedish fashion brand Axel Arigato opened their first gallery store in the heart of Stockholm, which in our eyes is among the most inspirational retail spaces out there. For the design of the space, the brand collaborated once more with acclaimed architect Christian Halleröd, who also designed the brand's London SoHo flagship, that opened its doors last year. In the concept for the Axel Arigato Gallery the signature feel of Christian Halleröd industrial clean-cut designs is combined with the understated aesthetics of the brand through the creative direction of Max Svärdh. The space is left intentionally clean with few elements completely blown out of proportion, like for instance the 100-kg abstract oval display in plexiglass in the centre of the store, the yellow fur seats and the yellow illusion windows — resulting in the perfect platform for the products. The store carries the full range of men's and women's shoes, accessories and clothing as well as a selection of rare Japanese books, magazines and objects. In the future the store will also serve as a curated space with carefully selected brands, items and events.
Through the combination of the industrial framework of the building, the implementation of materials like plexiglass and the striking use of the color yellow, a beautiful contemporary hybrid space has risen that, without a doubt, will serve as Axel Arigato's perfect segway into greater things in the near future. [ Continue reading ]