WHERE I END AND YOU BEGIN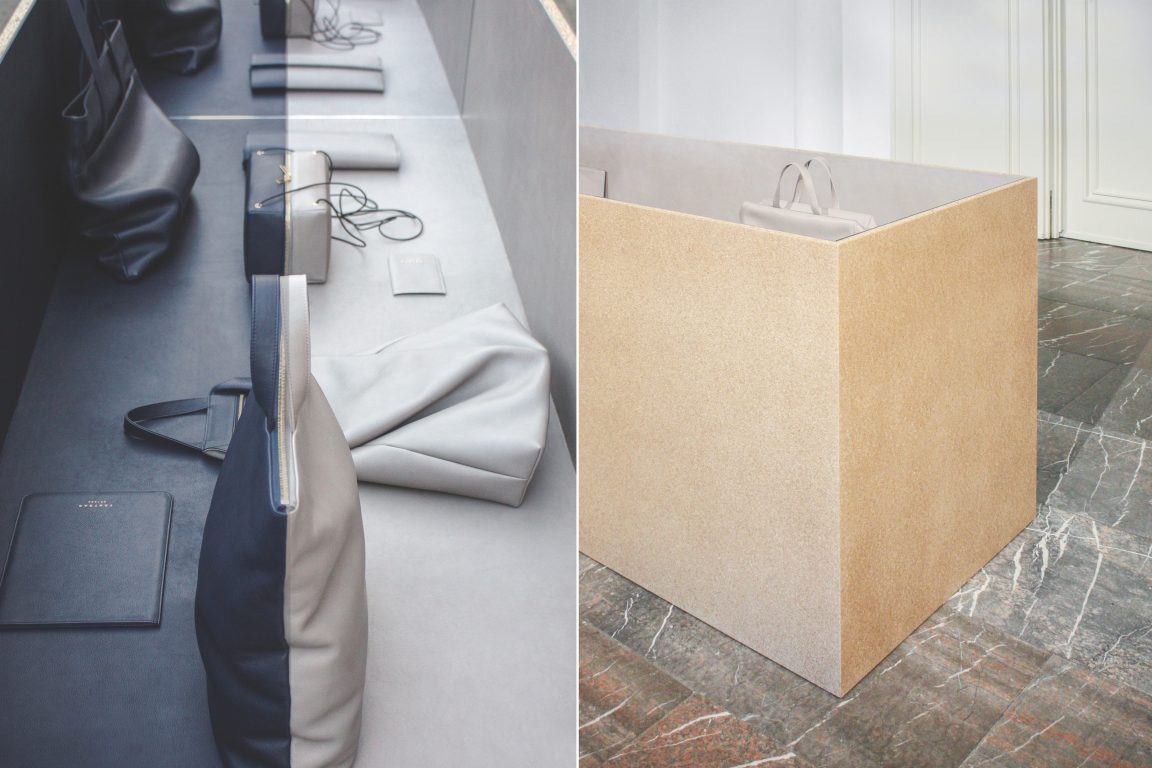 We've been appreciating the ambitious German bag and accessory label TSATSAS since their Aesthetic Habitat collaboration with our friend Ramon Haindl. This month, after presenting it for the first time during Berliner Mode Salon 2016, they return with a new inspirational artistic project named WHERE I END AND YOU BEGIN, which will be on display at the TSATSAS atelier in Frankfurt am Main through the end of January 2017. In every single one of their designs Esther Schulze-Tsatsas and Dimitrios Tsatsas, explore an object's boundaries. Their bags and accessories, produced using precise patterns, are made up of countless individual pieces which are assembled using in a complex production process to create a coherent piece.
In the project, the color of the leather becomes a medium for highlighting the transitions within the bags and accessories. Until this moment all TSATSAS leather designs have been monochrome, hiding the fact that the products are made up of different sections. Using different colors for the various elements highlights that diversity, rendering the boundaries suddenly visible. Boundaries, either called for by the design, as with the LUCID tote bag, where different shades of leather come together in the front and back, or are set by the basis of aesthetic considerations, as with the HAZE clutch bag. The space in which the subject is addressed and the designs presented is a solid cube lined with leather. Other pieces that were involved in the project are the iconic FLUKE, cardholder CREAM TYPE 2, clutch bag HAZE and two other bags, LINDEN and LUCID, all featuring two contrasting shades of high-grade natural leather, which with all TSATSAS products is tanned in South Germany. The pieces created for WHERE I END AND YOU BEGIN are one-offs and do not form part of the collection — very inspirational stuff!
Where do things end and where do they begin? Can an object have two beginnings, two ends? Are there boundaries within one entirety?
TSATSAS was established in Frankfurt in 2012 by Esther Schulze-Tsatsas and Dimitrios Tsatsas. There is a long tradition of leather processing in the Tsatsas family. Dimitrios Tsatsas' father is a leather craftsmen and has been running his own atelier in Offenbach/Main for more than 30 years now. This is where all the TSATSAS bags are handmade with loving attention to detail. Dimitrios Tsatsas studied Industrial Design before spending ten years as a creative director working in the field of design. Esther Schulze-Tsatsas studied Architecture and was, for a long time, responsible for producing and implementing the concepts at large design events. With their strong interest in design, fashion and art, the couple have developed a real flair for the stylistic vocabulary of our times. Their designs reflect both their sensitive approach to the interplay of shapes and materials and their eye for details.
Dimitrios Tsatsas on the  new project:
Looking at the different elements in our patterns they are a collection of individual elements, each of which exists in its own right. Assembled to make a product, each surrenders its own individual identity and coalesces into a clear whole.
The TSATSAS atelier is located on the Frankenallee 104 in Frankfurt am Main, opened by appointment.
All images courtesy and © TSATSAS.
For all information on TSATSAS see here