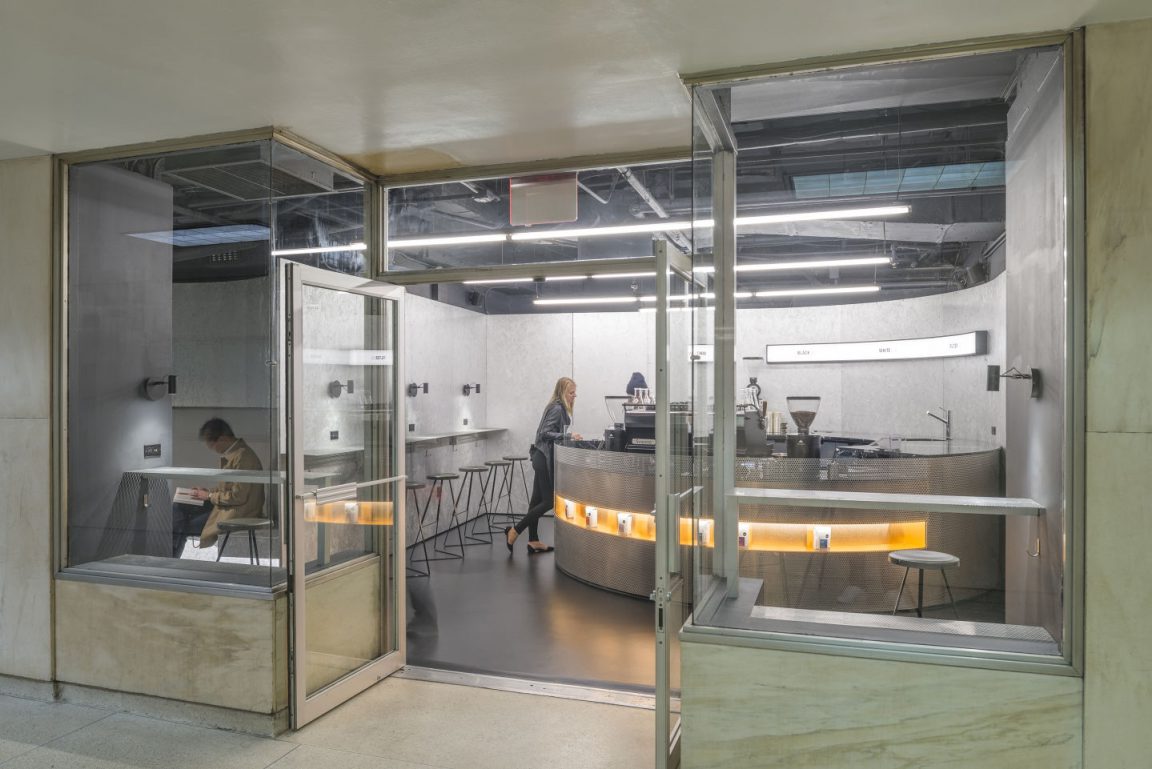 At the beginning of this year, a new specialty coffee bar named Voyager Espresso opened in a subway concourse in Manhattan's Financial District, which we discovered last month through our friends of Superfuture. Architecture firm Only If was commissioned to develop an innovative architectural and interior design for its initial retail location in this unusual underground site. In contrast to the oh so familiar and saturated artisanal aesthetic of contemporary coffee culture, the shop's design and material palette refers to the namesake spacecraft and scientific approach behind the Voyager. This resulted in walls which are clad in oriented strand board, transformed through the application of aluminum enamel paint. Work surfaces consist of black marble countertop, which refers to the texture of the walls. Elsewhere, perforated aluminum, copper, and black rubber are used. Without a doubt this forms one of the most interesting, perfectly executed industrial futuristic interior designs we have seen in a while, not to mention it being done for a coffee bar which is super refreshing to say the least.
Adam Snow Frampton, Principal of Only If on the project in a conversation with divisare:
From the beginning we knew we wanted to avoid the clichéd language of white tile, reclaimed wood, and exposed Edison bulbs. The material palette we developed is inexpensive yet futuristic.
The design of the small space is based on the organization of two circles: one for service given the moniker 'the Barista Station' and another for seating which was named 'the Grotto'. The Barista Station has been be read as a positive volume, whereas the Grotto can be read as a negative volume excavated from the surrounding walls. Practically, the layout consolidates the storage and back of house at the rear of the space, and maximizes visibility of Voyager Espresso along its glass storefront to the subway concourse. The layout creates a variety of different social settings for seating, from individual to collective, intimate to exposed: adding up to a super dynamic and interesting user experience.
Only If was founded in 2013 and is led by Adam Snow Frampton, who brings extensive international experience and previously worked as an Associate at Rem Koolhaas' OMA. Inspired by technology, scale, specialization, market forces, and architects themselves the firm seeks to generate an increasing complexity in design, seeking to focus on the fundamentals facing in each project. The company searches for an intuitive and precise fit between these given conditions, our own obsessions, and a broader public context. A mission which is represented to the core in their latest work on the impeccable Voyager Espresso.
Photography by Michael Vahrenwald/Esto.
For more information follow Voyager on Twitter here
For more work by Only If see here