Margiela: The Hermès Years
at MoMu Fashion Museum Antwerp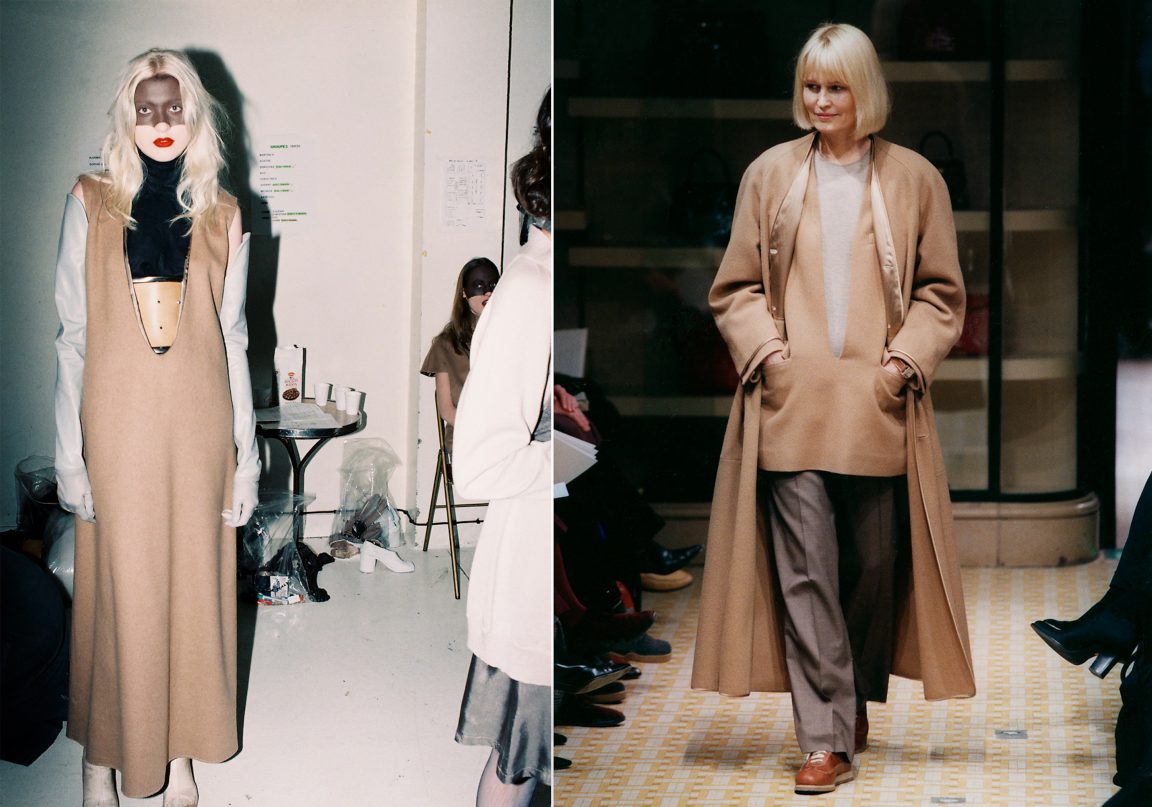 Last week, we once again had the privilege to witness another highly anticipated (a little more than any other we have seen before) exhibition opening at our favorite museum in Antwerp: the MoMu Fashion Museum. In the new exhibition, for the first time ever, the museum focusses on genius Martin Margiela's often forgotten Hermès collections that he created from 1997 to 2003. The exhibition also touches beyond his extraordinary work for the Parisian house and furthermore showcases the relationship between these collections and the complete vision he created with Maison Martin Margiela.
Groundbreaking deconstruction and timeless luxury –two worlds that Martin Margiela made his own– therefore are the starting point of the exhibition named 'Margiela, The Hermès Years', uniquely displayed in a "split-vision" Hermès orange/Margiela White scenography, designed by the museum's regular collaborator, but more importantly also Margiela's former trusted scenographer: Bob Verhelst. For anyone looking for a razor sharp yet very emotional insight into where many of today's ideas about fashion and modern luxury still find their core inspiration, we can only urge to travel to Antwerp before the end of  August, as this extraordinary exhibition clearly showcases the work of an unparalleled visionary in what for us is already among the best exhibitions of the year.
'Margiela: The Hermès Years' can be perceived as a vast wardrobe, in which the two worlds of Martin Margiela can engage in dialogue with one another.

What at first may seem to be irreconcilable worlds of luxury and avant-garde fashion have both proved inherent to Margiela's creative DNA, and have now been brought together as part of a single vision, in which ideas and concepts that span collections and seasons are recaptured, rethought, or even refined.
When the Parisian house Hermès appointed Margiela as its artistic director for the women's ready-to-wear collections in October 1997, the founder of the groundbreaking Maison Martin Margiela had already been known for almost a decade as one of the most influential avant-garde designers, which today undisputedly proved to be a vast source of inspiration for generation after generation. His predilection for the deconstruction, recycling and recovery of materials was unheard of in the fashion world of that era. His conceptual approach to the presentation, sales and communication of his collections has changed the way we think about fashion and its underlying mechanisms, as well as our opinions on craftsmanship, commerce, authorship and innovation.
Jean-Louis Dumas' choice, stimulated by his daughter Sandrine who had modeled for Margiela, was both daring and unorthodox to say the least, and not in line with the prevailing developments on the fashion scene, which preferred celebrity designers to breathe new life into traditional French fashion houses. For Hermès, Margiela developed a vision in which the woman is central, not an ideal image of eternal youth, but a real, natural and mature woman. For her, he developed a gradually evolving wardrobe with comfort, utmost quality and timelessness as its basic elements. He presented his collections on women of different ages and body types, and his fashion was harmonized with the wearer instead of being forced onto her body. The image he presented for Hermès surprised the press because of its unexpected direction. His sober and monochrome color palette strongly diverged from the typical brightly-colored Hermès prints, but therefore introduced a new understated luxurious aesthetic.
This exhibition also looks more deeply into his own label, Maison Martin Margiela. Margiela's overall oeuvre is shaped from his great knowledge and deep respect for the past, and his exceptional love for tailoring. Tradition, quality, craftsmanship and creation are the foundations of a vision that not only then, but still today offer an example in a fashion system increasingly under pressure.
As a result one can only conclude that Martin Margiela at Hermès was able to distil his design and tailoring vision into sheer perfection, supported by extensive material research that not only enhanced the comfort of the wearer, but also introduced numerous innovations — making his status as a cultural giant unparalleled, although that fact didn't really need further explanation, but without a doubt the incredible new exhibition by MoMu will rightfully so add significantly to the Pantheon level legacy of the anonymous stylist from Belgium.
'Margiela: The Hermès Years' will run until 27 August 2017. The MoMu Fashion Museum Antwerp is located at the Nationalestraat 28, opened Tuesday until Sunday from 10:00 — 18:00. 
For tickets and all information see here