Gold and Green
by Matthias Kaiser and Hsian Jung Chen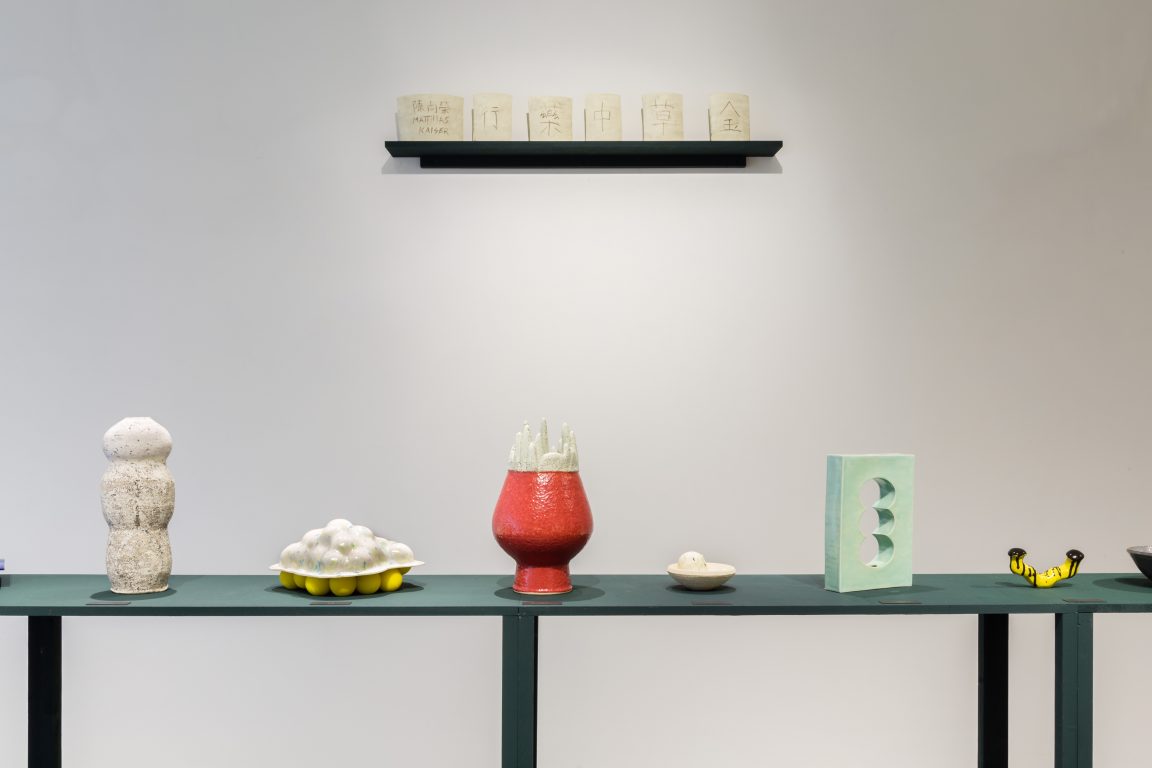 Three months ago, the inspirational Taipei-based space for art exhibitions, books and good coffee named Pon Ding presented a beautiful show named 'Gold and Green', which closed last month but remains a very inspirational cultural hybrid. The project is a collaborative effort by the established Austrian ceramic artist Matthias Kaiser and the emerging Taiwanese ceramic artist Hsian Jung Chen.
After chancing across some books about Chinese medicine, Kaiser became fascinated by the odd and unusual ingredients, like the organs of rare animals, and the kinky sounding remedies. The mysterious culture of traditional Chinese medicine sent him dreaming about other worlds. Kaiser's works include the pieces fused with Chinese philosophy and his Asian experiences, and also the tools with gold, platinum or brass luster, which indicate the alchemy-like refining process of medicine. To Chen, Chinese medicine shops have a commonplace existence in his daily life, and he seldom ventures beyond their thresholds. Through reading and field research, Chen acquires more knowledge of Chinese medicine and gets inspirations from their stories, purposes, making process or appearance features. From their different points of view and experiences, these ceramic artists re-interpret, through their individual visual languages, the dwindling and partly-lost culture of traditional Chinese medicine.
The two artistic visions combined, resulted in a project that shows a clash of old and new; sharp and organic lines; smooth and rugged surfaces. Perfectly juxtaposed to form a fascinating selection of ceramics that tell the story of East and West exchange on more than one level with both artists clearly having found inspiration in the cultural tradition of the other, which in turn really inspires us.
Matthias Kaiser is a renown 
Austrian ceramics, living and working in Grafendorf. Graduated from Parsons School of Design, NY and University of Applied Arts, Vienna.  Apprenticed with two Japanese potters Fumitada Morikaki and Takashi Nakazato. He focuses on the inherent qualities of the material and the succession of steps that constitute the process of creation. He tries to reveal, not hide, what is there and has been done, and to give respite from the world of contrived concepts and passing excitement. His works combines a bolder approach towards shapes and colours with a Japanese sensibility to surface and texture, and contain more than a functional and decorative aspect. Their poetry lies in the balance of intent and accident as well as in the interplay of physical attributes.
Hsian Jung Chen
 is a Taiwanese ceramic artist and image / interior stylist, who lives and works in Taipei. Chen is not professionally trained in ceramics, and his work somehow steps a bit further from the images people have towards ceramics. The bright colours, geometric forms or fluid lines in his works can trace their influence to the Italian Memphis design movement from the 1980s. Chen's work is also influenced by aspects of post-modern design. He purposefully distorts 'functionality' in his pottery practice, which makes the objects hard to use or even useless.  It disturbs people's linear thinking and makes people re-think their relationship with things. Chen likes to combine pottery with other readymade products, which reflect the contemporary ubiquity of mass-produced objects. This contrast brings out the differences between the handmade and mass-produced. Chen always attempts to capture the harmony within arranging and composing.
For more work by Hsian Jung Chen see here
For more work by Matthias Kaiser see here