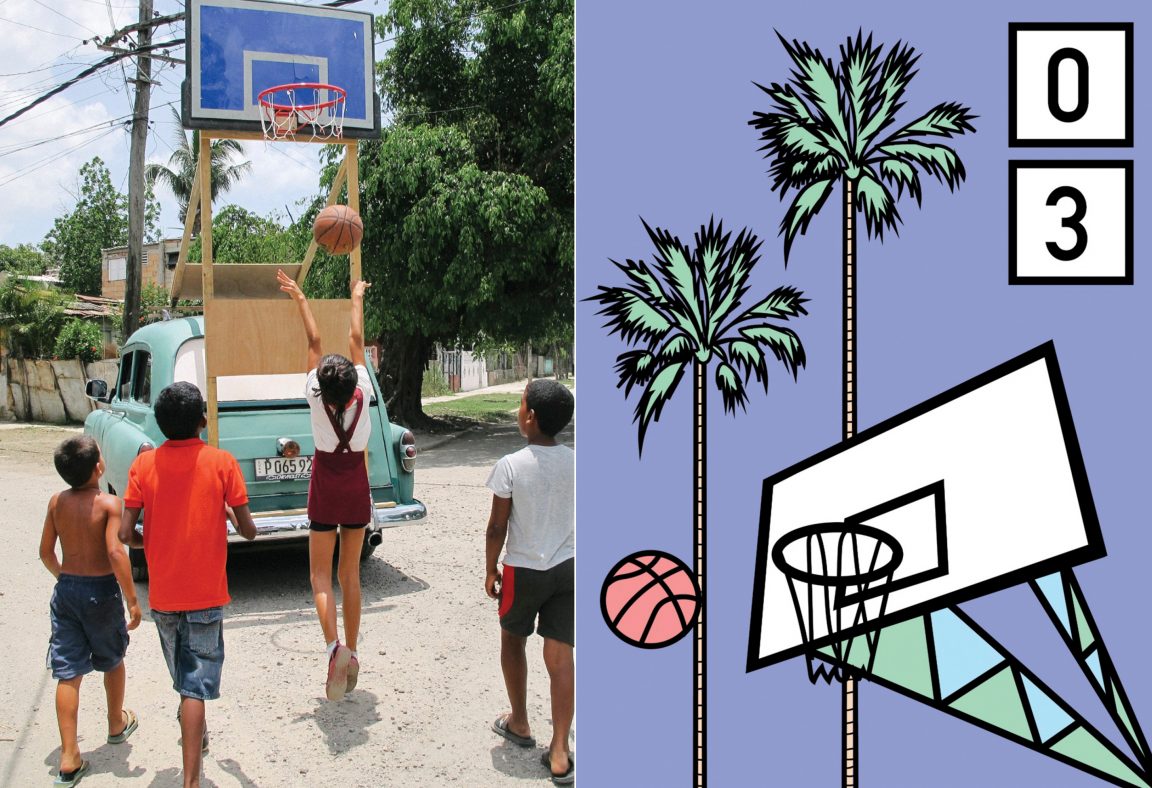 Another release that took place while Joachim and I were away on holiday last month (but we need to share as it's so good) came from one of our favorite magazines on the market. The Los Angeles-based FRANCHISE Magazine, that was incepted in April of 2016 to bring a new elan into the world of basketball publications, celebrated already the third edition and it proved to be another incredible addition to the catalogue of the magazine that, without a doubt, is among the most playful and creative printed publications writing about sport.
The third issue features a front and back cover shot by the very talented New York-based photographer Pete Deevakul. Deevakul shot basketballs from the Japanese-based basketball manufacturer Tachikara Japan with a unique twist on ikebana. Inside it holds stories like the day in the life of the New York KNICKS City Dancers shot by Daniel Arnold and one of our favorites; Australian artist Mark Whalen bringing his neon-infused style in a watercolor series. In the magazine one also finds a profile on the Barcelona-based duo LLobet & Pons' art installation series 'No One Wins', in which New Orleans native Ashley Teamer uses a variety of mediums for her art including collages featuring WNBA imagery. One also finds the work of Isa Saalabi: a Los Angeles-based photographer who documents emerging high school talent of which a selection from the Tarkanian Classic is showcased. And finally Photographer Gary Land's work is highlighted showing his legendary images of Allen Iverson and Streetball, amongst a list of other inspirational stories.
In our eyes this is the third W in a row by Justin Montag, Chris Dea and Brock Batten, make sure to pick it up one way or another!
FRANCHISE is a global basketball print-only magazine, taking a rather unique position within the thematic. Launched in April 2016, the magazine has featured talented artists and players such as BFGF, Ava Nirui, Lauren Fisher, Theophilus Mensah, Deandre Jordan, Diplo and more. Inside, readers can find vibrant photography, illustrations, locations ranging from Los Angeles to Ghana, and interviews with both ballers and designers. All of these groundbreaking features are held together by an undying love for the game. After being only available online and a handful of locations, mostly in Los Angeles, the third magazine is stocked at inspirational retailers as Kith, Undefeated, Colette, Daikanyama T-site, amongst others.
Next to getting familiar with the inspirational magazine, also make sure to follow FRANCHISE's Instagram feed, which we really like.
Order FRANCHISE 03 (and back issues) online here