FERNWEH
Aldo van den Broek at Galerie Ron Mandos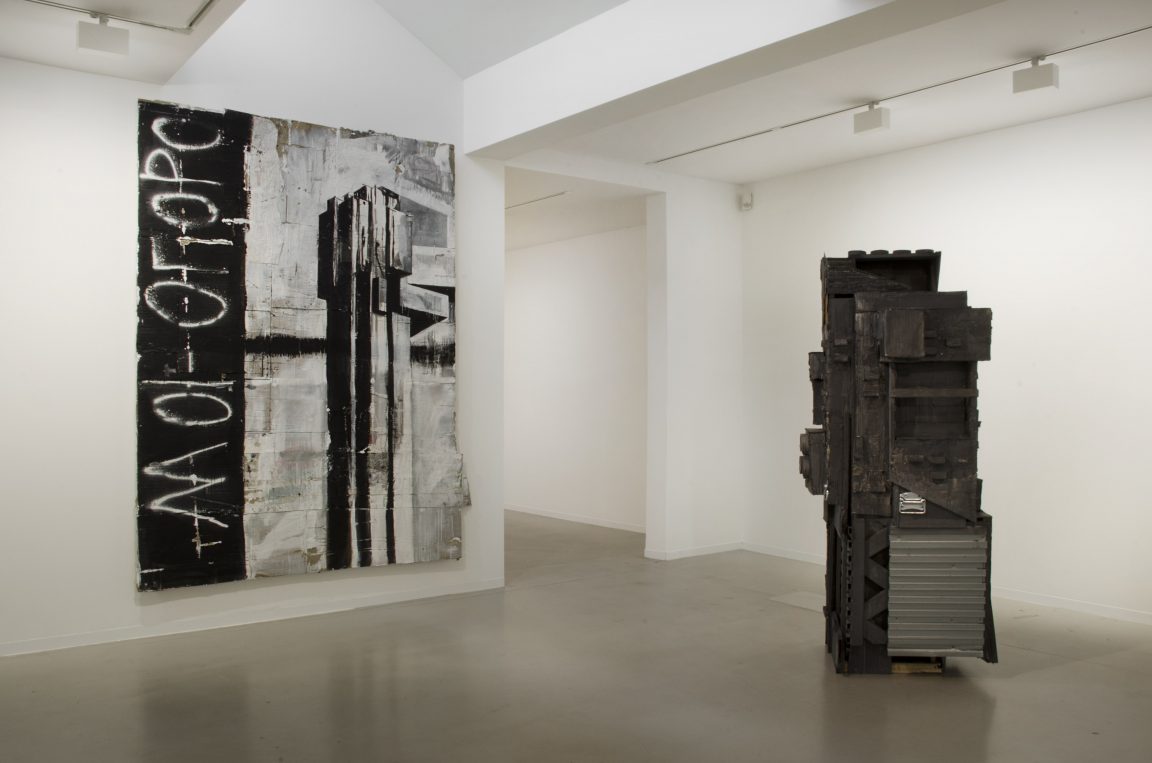 Although the official run of the exhibition ended last week, the highly inspirational show named 'FERNWEH' presenting the latest works by the Berlin-based Dutch artist Aldo van den Broek, continues to be open by appointment at the Amsterdam-based Galerie Ron Mandos until the 20th of August. Giving those who have missed it a last chance to see, what we feel is one of the most interesting exhibitions of the Summer to be found in Amsterdam. Recurring themes in all of Aldo van den Broek's dark and mesmerizing work are history, underground, punk and romanticism. His creations characterize the world where he lets architecture and people meet. He is fascinated by the urge of people to strive for safety and freedom simultaneously and the deconstruction that usually follows. Travels and experiences bring valuable inspiration to his work. His researches brought him to Berlin, where he has been living since 2010, but also the post-communistic suburbs of Belgrade and Tbilisi.
Aldo's work reflects his interpretation of purity and beauty within ugliness. Therefore, he choses to work with wasted materials with no apparent value. Used and re-used by himself, or found on the streets and abandoned places. By literally using his own past failures as a beginning for his new works, these different themes are constantly transforming and melting together till they reach their final appearance.
Aldo about his work in an interview with Trouw:
Maybe my work is a reaction to my childhood in 't Gooi [posh area of The Netherlands]. They have everything so well together, but behind the botox and expensive clothes are super vulnerable people, who are trying to cover that up by their polished exterior.
In 2015 Aldo got invited to the artist in residence 'Beautiful Distress' to stay four months at the psychiatric department of 'Kings Count Hospital', the only mental institution in New York with a government-sponsored health insurance. By living so intensively in between mostly poor and mentally ill people he got confronted with his own way of thinking, living, working and surviving. 'FERNWEH' is Aldo's longing for a confusing and non-existent place.
Aldo van den Broek lives and works in Berlin. In 2015 he was nominated for the prestigious Prix de Rome. His work was shown amongst other at the Loyd Hotel, Amsterdam, Nieuw Dakota, Amsterdam,The Armory Show in New York, Sucked Orange gallery, Berlin, Köningsstadt gallery, Berlin, Galerie J.J. Heckenhauer, Brussels and the Berlin Art Week. Aldo van den Broek's work is currently also part of the still running 'Wonderkamers' exhibition at the Gemeentemuseum in The Hague, which is also definitely worth a visit.
Galerie Ron Mandos is located at the Prinsengracht 282 in Amsterdam. 'FERNWEH' is open by appointment until the 20th of August.
For all information on 'FERNWEH' see here
For more incredible work by Aldo van den Broek see here