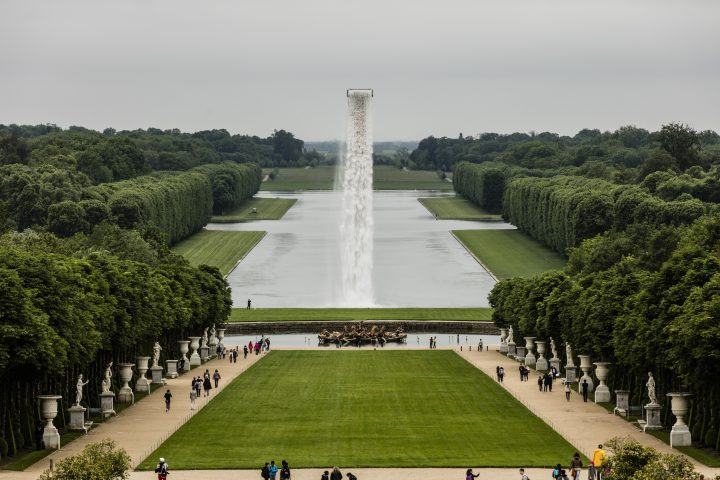 Opening today, the great Danish-Icelandic visionary Olafur Eliasson returns with another prestigious show taking the exhibition of his creative vision to the next level, being located in the most remarkable environment until date — having been the home of cutting edge art and design from different eras since the moment it was finished by French King Louis XIII in 1623: Château de Versailles. Herewith he follows the likes of Jeff Koons, Takashi Murakami and Anish Kapoor, amongst others, who in the modern art program that started in 2008 have brought their vision to France's most famous chateau and gardens.
Earlier shows by Eliasson in contexts like the Louisiana and Fondation Louis Vuitton underlined that he is undeniably part of the most influential artists of this time — the show in the Versailles could be seen as a marker that he will continue to be seen that way even in the far future. Seeing the highly aesthetic creations full of narrative by Eliasson in the historically charged context, having (and still does so) housed centuries of French aristocratic splendor, forms a fascinating clash of representational icons of different stretches in space of time, without it feeling unnatural in any way. The different creations that can be found in the estate, partly having been created exclusively for the exhibition, came to life in Eliasson's head while wandering the grounds, sometimes alone at night, when no one was around. Among the most impressive creations is the structure named 'Waterfall', fulfilling an original idea of the 17th Century landscape architect André Le Nôtre, which couldn't be realized at the time when the Château and its gardens were originally constructed. Finishing a story which first grew in someone's imagination centuries ago and seeing the for the artist familiar immaculate execution of such idea hits a delicate nerve, which inspires us deeply.
Looking backwards, sketching out what lays ahead.
Make sure to travel to Versailles and step into this remarkable collision of past and future before the show closes on the 30th of October. We will. [ Continue reading ]